Building a bike for someone with whom you ride often can be a little unnerving. One the one hand, you have a sense of how your friend rides, what seems to work, what might work better. On the other, what if the end result isn't right? You're going to see it and live with it very directly. It feels risky.
This week I'm starting a frame for my friend Matt, and I've decided to document the process in a way that opens up the whole technical, metallurgical, and spiritual process involved. I've been going back and forth for several weeks on tweaks to the design — working off his body measurements and dimensions of his current bikes (his Roubaix in particular), and modifying to come up with a geometry that will perform but also be more comfortable.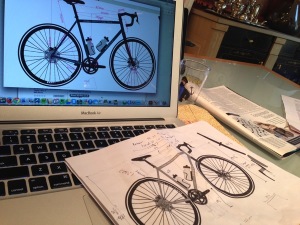 In parallel, we've been talking about the playlist. From now on, every bike I build will be built around a particular playlist. You see, a bike's character can be formed by the music that plays when its tubes are being mitered, when the frame is being tacked and welded, and when the alignment is being set. And a bike that is built to a rider's dimensions should also be built to a rider's music. So while working on the head and seat tube angles, stack height, and top tube length, we're working on the accompaniment. The design is in its fifth iteration — it's pretty much final; and the playlist is in its second. I think it's close to final as well.