Next week I'll finally be back on one of my own bikes.  I finished brazing the water bottle bosses and cable stops for Jay 3.0 yesterday.  As soon as I can butt into Marty's shop to use the powder coating booth I can put color on it and then start the finishing assembly.
Brazing is satisfying.  It's much more forgiving than TIG welding, with the added benefit that you get to play with an open flame.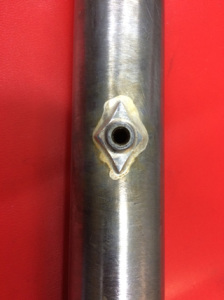 Here's a photo of a finished water bottle boss and reinforcer (they're from Cinelli, which will make them the only Italian part of the bike).  The goldish splotch around the reinforcer is the silver that is used to bond steel to steel at the relatively low temperature of 1700 degrees Farenheit (930 degrees C).  TIG welds — the kind that join the main tubes and stays together — are produced at about three times that temperature (3000 deg. C).  Believe it or not, that's about half the temperature of the surface of the sun.