I can measure my life in bicycle frames. I happen now to be riding a Lotus, probably about 30 years old but in very good shape. It's red, and it has Shimano 600 shifters, just like a bike I had built when I was 22. It's a loaner to keep me rolling while I replace the bike I totaled in an accident last month. It's nowhere near as good as the bike it's standing in for, but I'm grateful for it, and its successor is coming along nicely.
My earliest cycling memory is of another boy and his bike. My neighbor and friend Scott Eue, a year older than me, was in his back yard, being launched by his sister Gay across the grass with a running start, as he attempted to guide his bike upright without training wheels for the first time. I recall the zigging and zagging and falling, the neighborhood of spectators, the eventual faltering upright traverse, and the intense desire to get rid of my own training wheels. Scott was a year older, and I had to wait.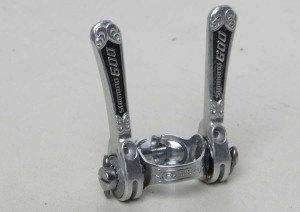 My bike then was a red Schwinn. Not yet a sting ray (banana seats and high rise bars hadn't quite made it into fashion). Once I lost the training wheels, Scott and the other Scott, Scottie Bell and I would cruise the Minnetonka neighborhood where we lived. It was a recent sub development, carved out of land that had been farmed not long before, with yet undeveloped overgrown acres that we boys called "the weeds." Our permitted range was circumscribed by forbidden roads ("I don't want you crossing Highway 7"). Our destinations were places where we had built tree forts, or house building lots where we could forage for scrap lumber. I think we understood "scrap" simply to mean unattended. It was rumored that Minnesota Twins slugger Harmon Killebrew lived out at one edge of our range, and I remember cruising back and forth across less familiar streets hoping to identify his house (by what? A bat leaning agains the front door? A big Twins logo emblazoned on the mailbox? ).
There must have been an intermediate bike, but it has left no trace in my memory, other than the care I occasionally took in polishing chrome fenders, or oiling a chain and axles. The next bike I really remember was my first real "racing bike," a ten speed Schwinn Collegiate. Bright green. That was my bike through high school. By then we had moved to Massachusetts, and I remember discovering that my range was no longer limited by permission, but by time and effort. I learned that destinations that would normally be thought of only as car trips — Crane Beach in Ipswich, or Plum Island in Newburyport — were accessible by bike, and that there were friends willing to ride. It was world-enlarging.
There was a short cycling hiatus while a driver's license and departure for university took over the role of enlarging the world.
I spent my second semester sophomore year abroad in Paris. At the end of the spring, my friend Tad recruited me to join him on a bike trip of indeterminate duration down the Rhone Valley. I didn't then have a bike ("you can borrow one") much less pannier bags ("I know where you can get some"), but Tad was persuasive. I felt that if I didn't solve the simple material issues, I was turning down a worthy dare, and that I would be missing out on something good.
True to his word, Tad did have a lead on a bike to borrow. It was heavy, a little small for me, but it had a rack and derailleurs so it suited the purpose. I bought bags and a train ticket, and we headed South. For the next several weeks — I really don't know how long — we crisscrossed our way down the valley, setting destinations on a daily or sometimes hourly basis. We stuck mostly to rural "Départementale" roads. Toward the end of each day we would start looking for farms with hospitable looking barns, or occasionally open grassy fields. At each farm we would roll up, look for the proprietor, and ask if we could camp for the night in the barn or outbuilding. I think the replies were split about evenly by three: Allez-vous en (get out of here); Est-ce que vous fumez? Sinon, d'accord (do you smoke? If not, OK); and "Mais non, il faut rentrer" (come stay in the house). We bought goat cheese from farms along the way, and lavender-scented honey. We felt like vagabond kings.
Three years later, I was back in France on a teaching fellowship in Valenciennes. I needed a bike. I needed to get around and see the countryside in the North. Moreover, spring was going to come, and I needed to try to replicate the complete freedom of that last long trip. By then I had more definite ideas about what constituted a "good" bike. Valenciennes had a strong cycling tradition. We were in the land of Bernard Hinault and a stone's throw from where Eddie Mercx had begun his career. If you bought a bike from Monsieur Nihon's shop, it wasn't off-the-shelf, it was assembled to meet your needs. These weren't custom frames — they were stock — but Monsieur Nihon would discuss with you the benefits of Reynolds steel, the desirability of Shimano 600 EX derailleurs, and he would put together the bike you thought would make you fast and cool.
That's the only bike I look back on and wish very much that I still had. It took me on another long wander, this one out the Loire Valley and down the Atlantic coast. It's the bike I rode to meet up with my beautiful girlfriend in St. Amand, who became my beautiful wife. The bike moved with us to Paris after Valenciennes, and to Boston after Paris. In the succeeding years I rode less, drank more, and lost track of what is important. The bike made one last move, to New Hampshire, and in a moment of enthusiasm I decided to have it fixed up. It needed a new bottom bracket — the old bearings had begun to seize and the cranks turned with difficulty. The bike shop where I brought it was unable to remove the cups from the shell. In retrospect, it was probably threaded in some reverse obscure fashion and the mechanic tightening when he thought he was loosening, but I just gave up and left it there.
The first frame that I built from scratch, the one that Marty Walsh from Geekhouse "apprenticed" me through was stolen off my front stoop. It was spotted in Dorchester with the bars turned up by some dork who doesn't understand bikes. But after I got over the loss, I was as happy to build and ride a new one. It was better: it had cleaner welds, S-curved seat and chain stays, a more responsive feel. I called it Jay 2.0, and although I used it mostly for city riding in Boston, it was good on longer rides out of town, it was good on dirt roads, it was good with studded tires and snow. By the time I built that bike, my world was getting larger again, and I was riding a lot. It had a companion in the stable, a Parlee carbon fiber road bike that is terrific for century rides, long climbs, and zippy descents, but my steel bike got most of the time and mileage.
There are few days when I don't ride now. I was riding Jay 2.0 back from the studio where my wife sculpts stone and I weld bike frames last month, and after stopping at a red light, was rear-ended by an SUV when the lights turned and I was heading out through the intersection. I fell and the car pinned the bike and me to the pavement. I couldn't move my legs, but I didn't feel like anything was broken, so I yelled at the driver to just back up. He was in a bit of shock, so I had to repeat it a couple times before he jumped back in the car and reversed. I pushed the bike off me, and picked it up as I stood back upright. Other than scraped knees, shins, ankles, and elbows I was fine. Jay 2.0 was a mess, though. Pancaked rear wheel, twisted dropouts and rear derailleur, the whole rear triangle bent out to a bad angle where it was folded over my leg. I would like to repair it and save the main triangle, but was talked out of it by Marty for good reason, so I'm working on Jay 3.0 now. A few tweaks to improve on Jay 2.0, but it's pretty much the same bike, and it will reuse the surviving components. I finished cutting the tubes and tack welding the frame last week. This week I can probably finish up the welding and brazing, and with any luck be riding it, instead of the Lotus, in before Halowe'en.